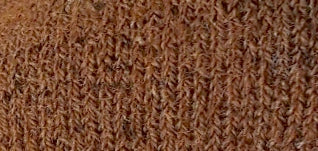 Graceful Glen Alpacas - Heavy-Weight Alpaca Crew Sock
Warm-up with these durable, heavyweight crew alpaca socks made with fiber from our very own animals!  These socks are 72% alpaca, making them great for everyday use, or for keeping warm and dry while sporting or working. Processed locally on a machine that creates a terry-knit feel inside the sock, our alpaca socks offer a comfortable feel and have great wicking capabilities.  Naturally hypoallergenic.  Natural color - No Dyes! 
Alpaca blend (72% alpaca, 26% nylon, 2% elastic).
Suggested Size Chart:

small (sock size 9 – 11) Fits women shoe size 6-8 1/2
medium (sock size 11-13) Fits women shoe size 8 1/2 and up, and men shoe size 8-11,
large (sock size 13-15) Fits men shoe size 11+