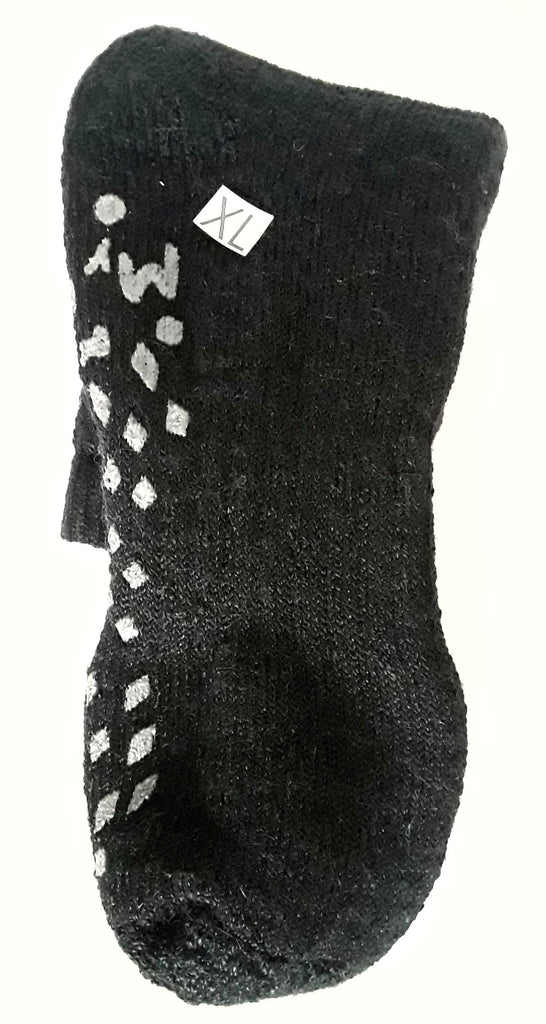 Slipper Sock - Rubber Tread
This Alpaca Slipper Sock is made with a medium weight yarn, offering the natural benefits of alpaca fiber...warmth and moisture wicking capabilities.  The inside of the sock is lined with terry for comfort and cushion.  Alpaca blended fibers combine to make a strong and durable product.   "Alpaquita" rubber figure on the reinforced sole to help prevent slipping.

Machine wash - cold water.  Unisex.
                         Small -  Women Shoe (4-7)

                          Medium -  Women Shoe (7 1/2-9)   Men Shoe (6-8 1/2)
                          Large -  Women Shoe (9 1/2-10 1/2)   Men Shoe (9-12)
                          X-Large - Women Shoe (11-12)   Men Shoe (12-13)
45% Alpaca, 43% Acrylic, 10% Nylon, 2% Spandex
Note:   L and X-Large Option is sometimes a bit different:  Blend-51% Alpaca, 35%Microfiber, 12%Nylon, 2%Spandex.  Rubber sole is a diamond shape tread.